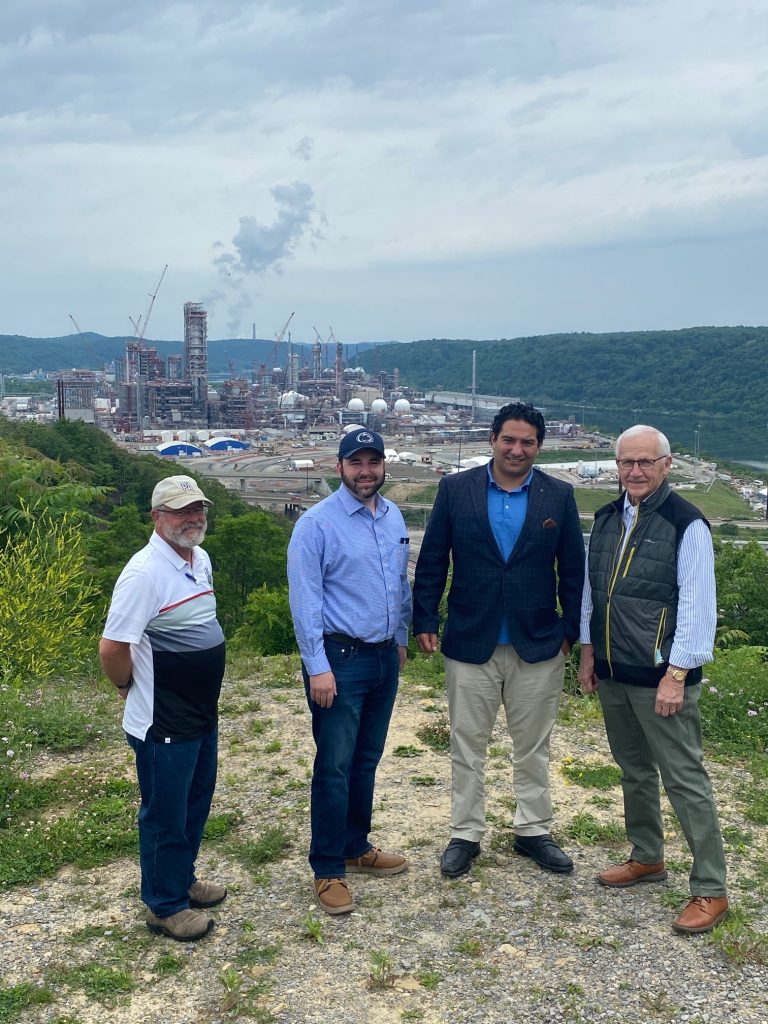 L to R: State Rep. Bud Cook, State Rep. Aaron Kaufer, State Rep. Josh Kail and State Sen. Gene Yaw
POTTER TOWNSHIP – Pennsylvania Senate Environmental Resources and Energy Committee Chairman Sen. Gene Yaw (R-23) on Wednesday toured the Shell petrochemical plant located in Beaver County. The $6 billion complex will convert oil and gas from producers in the Marcellus and Utica basins into ethylene, which is used in plastics manufacturing to make a range of products from automotive parts to food packaging.
When completed, the facility will include:
an ethane cracker with an approximate annual average capacity of 1.5 million metric tons of ethylene;
three polyethylene units with a combined annual production of approximately 1.6 million metric tons (3.5 billion pounds) – and;
power and steam generation, storage, logistics, cooling water and water treatment, emergency flare, office buildings and warehouses.
"The cracker plant is transformational," Sen. Yaw said. "Pennsylvania is a global energy leader, and this project reaffirms that. It is already providing enormous economic and employment benefits to western Pennsylvania and the state."
In March 2020, Shell temporarily halted the multi-billion project due to coronavirus concerns. After instituting a number of health and safety protocols, the site is nearly at its pre-pandemic peak of 8,000 workers.
The complex is being constructed on the banks of the Ohio River, about 30 miles north-west of Pittsburgh, and is close to both its source of ethane and its customer base. More than 70 percent of North American polyethylene customers are within a 700 mile radius of Pittsburgh.
The plant's Pennsylvania-based location will provide Shell with a competitive advantage over Gulf Coast operators while providing customers with a shorter, more dependable supply chain.
Senator Yaw was joined by members of the Pennsylvania House of Representatives, as well as labor and economic leaders during the visit.
CONTACT:
Nick Troutman
(717) 787-3280